This raven haired beauty is Nolita's favorite of all times, true fashion and vintage icon! Von Teese is an American

burlesque

dancer, model and actress and is often
noted as "the Queen of Burlesque". Von Teese
is credited for bringing back the glamour and sophistication of Old Hollywood stars and her performances are called
a journey into fantasy and spectacle.
Dita
is a collector of vintage china, particularly eggcups and tea sets and also she loves to drive cars from the 30s, 40s and 60s.
Von Teese has said about herself:
"I advocate glamour. Every day. Every minute." Could not agree more!
Retro cars have a certain place in Dita's life - she loves to drive them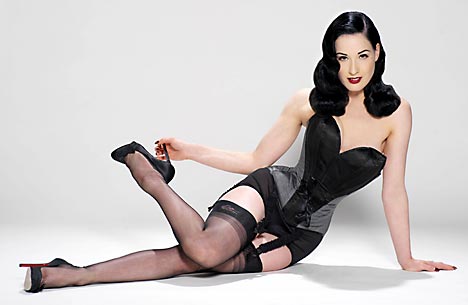 Everyday chic in houndstooth dress
See ronkmustade juustega naine on Nolita kindel lemmik, tõeline vintage ikoon! Dita Von Teese'ist õhkuvat 40ndate glamuuri on raske mitte märgata ning just teda peetakse Vana Hollywoodi sära tagasi toojaks. Von Teese'i tegemiste ampluaa on äärmiselt lai: ta on diplomeeritud moedisainer, raamatute autor, näitlejanna ja loomulikult ei saa siit nimekirjast välja jätta burleski. Enda kohta on Dita öelnud: "Ma jumaldan glamuuri. Iga päev ja iga minut!"